Police in South Carolina, USA have just arrested a man after discovering that this guy was the culprit who fastened electrical tape to the muzzle of a dog named Caitlyn. This man's cruel actions will most likely result in the poor animal potentially suffering permanent injury.
The image of a dog with electrical tape tied to its snout makes many people angry
Police said the man arrested was William Leonard Dodson, 41, living in the city of Charleston, South Carolina, USA. After the outrageous actions that William did to Caitlyn, this man has been charged with animal cruelty and is currently being held on a bail of up to $ 50,000. However, animal lovers are still very upset that $ 50,000 is not commensurate with the pain and fear that this dog has to go through.
The poor dog was tied with duct tape around its snout.
William Leonardo Dodson, the perpetrator of the abuse of Caitlyn the dog.
It is known that Caitlyn is a Staffordshire mixed breed and is known by many people living in the area for her lovely friendliness. But suddenly one day last week, Caitlyn appeared at the door of a resident's house, with her snout tightly wrapped in duct tape and showing signs of infection. Many sources say the cruel owner did this to prevent Caitlyn from barking.
Caitlyn's muzzle shows signs of being tied for a long time, leading to blood vessel blockage.
The kind people immediately took Caitlyn to the Charleston City Veterinary Center. The poor animal was diagnosed with a blood vessel blockage and likely had to have part of its tongue amputated. Doctors said Caitlyn's muzzle was probably bandaged about 3-4 days ago. Fortunately, due to the dedicated care of doctors, this dog is showing signs of good recovery. They will treat Caitlyn with hyperbaric oxygen therapy and lasers to minimize damage to the mouth area.
Caitlyn is being treated by skilled veterinarians and is showing signs of recovery.
Animal cruelty is a grave issue that demands our attention and action. The mistreatment and abuse of innocent creatures is a stain on our humanity, and it is our moral duty to speak up and call for an end to such cruelty. Animals are sentient beings capable of experiencing pain, fear, and suffering, and they deserve our respect and protection.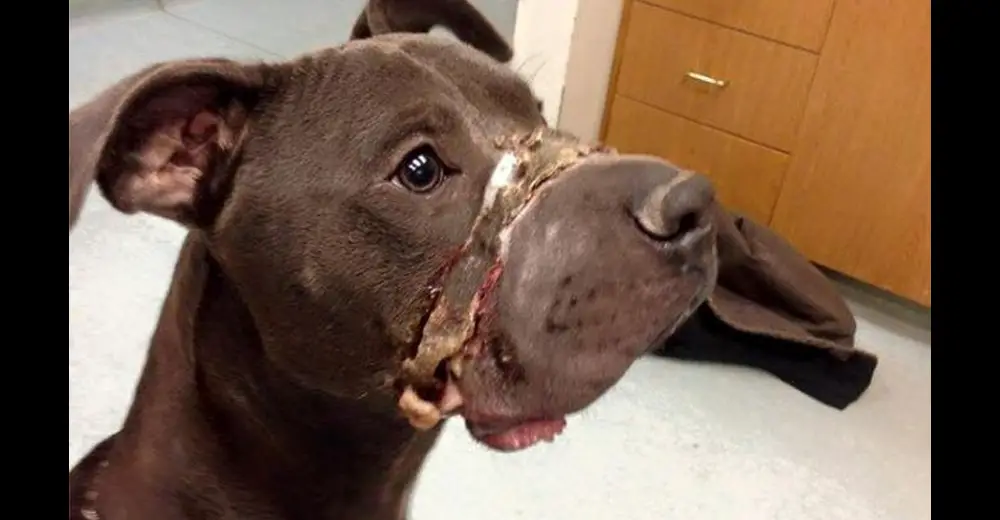 Whether it's factory farming, animal testing, poaching, or any form of exploitation, we cannot turn a blind eye to the suffering inflicted upon animals. The confinement, neglect, and physical abuse they endure are atrocities that should never be tolerated. It is essential to raise awareness about the realities of animal cruelty and advocate for change on both individual and societal levels.
Education plays a crucial role in addressing this issue. By spreading knowledge about the ethical treatment of animals, we can foster empathy and compassion in others. Teaching kindness towards animals from a young age promotes a culture of respect and responsibility. We must encourage people to consider the impact of their choices and promote cruelty-free alternatives in various aspects of life, including food, fashion, entertainment, and research.
Legislation also plays a vital role in combating animal cruelty. Governments and lawmakers must enact and enforce strict animal welfare laws that hold offenders accountable. Penalties for acts of cruelty should be significant, serving as a deterrent and sending a clear message that such actions will not be tolerated. Furthermore, it is important to support and collaborate with organizations dedicated to animal welfare, providing them with the necessary resources to rescue, rehabilitate, and rehome abused animals.
We must also address the systemic issues that contribute to animal cruelty, such as the demand for cheap animal products and the exploitation of natural resources. By promoting sustainable and ethical practices, we can reduce the demand for products obtained through cruelty and encourage industries to adopt more humane alternatives.
In addition to individual efforts, collective action is essential. Supporting and participating in peaceful protests, signing petitions, and engaging with animal rights organizations can amplify our voices and bring about meaningful change. Social media platforms provide a powerful tool to raise awareness and generate public discourse on animal cruelty, reaching a wide audience and mobilizing communities to take action.
Ultimately, our goal should be to create a society that values and respects the lives of all creatures. We must strive for a world where animals are treated with kindness, compassion, and dignity. By advocating for an end to animal cruelty, we are not only protecting the welfare of animals but also nurturing our own humanity and fostering a more harmonious and compassionate world for all beings.