Being overweight affects not only humans, but also some species, especially those that have been domesticated. And although a chubby animal looks cute , anything in excess can be harmful to health.
This little dog suffers from one of the worst cases of overweight in pets. When his new mothers find him, he can't do something as simple as walking . His joints couldn't bear his incredible weight and the movement was excruciating.
At first his rescuers didn't realize what kind of animal he was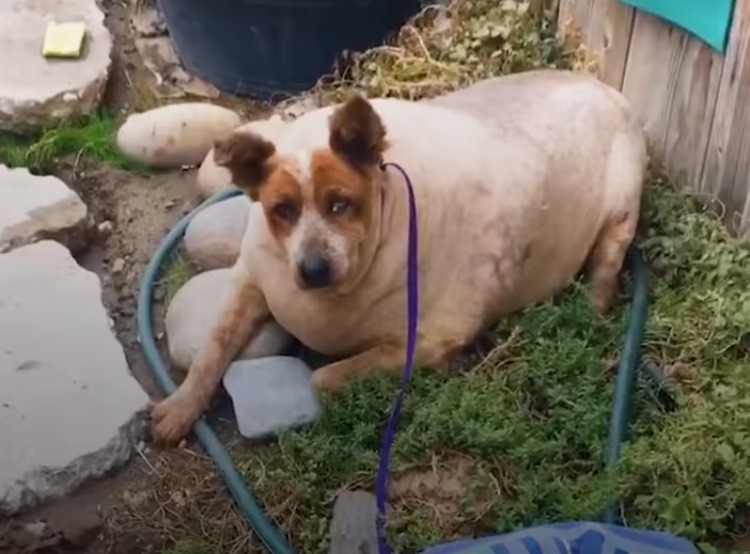 Arbuckle's famous moms, Jennifer Cheyne and Jane Lynch, saw it for the first time through an Instagram post and Jennifer says that when she saw it, she was speechless at her shock, it was incredible how chubby the dog was and how He immediately said, "Jane, we have to adopt this dog!"
Meanwhile, Jane knew from that moment that he would be welcome in her house, she loves chubby dogs and he is a gigantic huge dog, he is just a very cute and sweet dog . But as cute as he looked, they both knew that he needed a lot of help to get out of the danger that his overweight represented.
To take him to his new home they had to transport him like this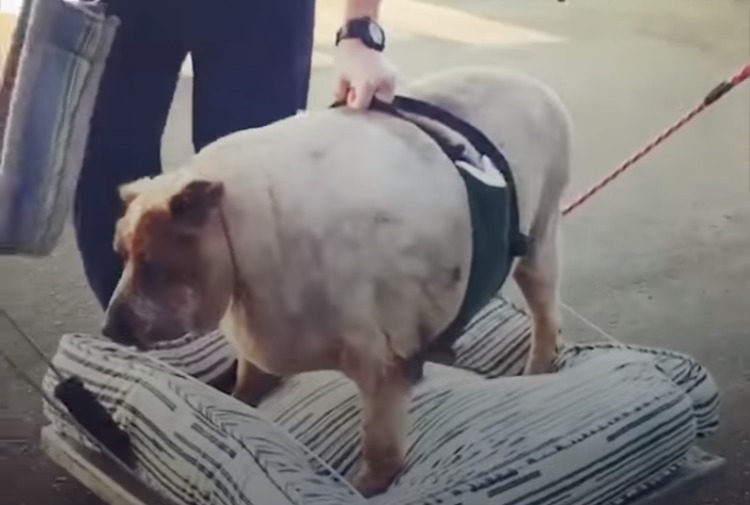 Arbuckle was found in an abandoned lot, at the time, he weighed 52kg. The size of it was such that people did not know what kind of animal it was at first . The ones who found him was the association A Purposeful Rescue and of all the rescue cases they had achieved, they had never seen anything like his story.
What was causing the puppy's severe overweight was his hyperthyroid condition. His condition was so serious that at first he could barely walk and unfortunately never in his life had he had a family to take care of his needs.
But thanks to the efforts of her new mothers, she was able to improve little by little.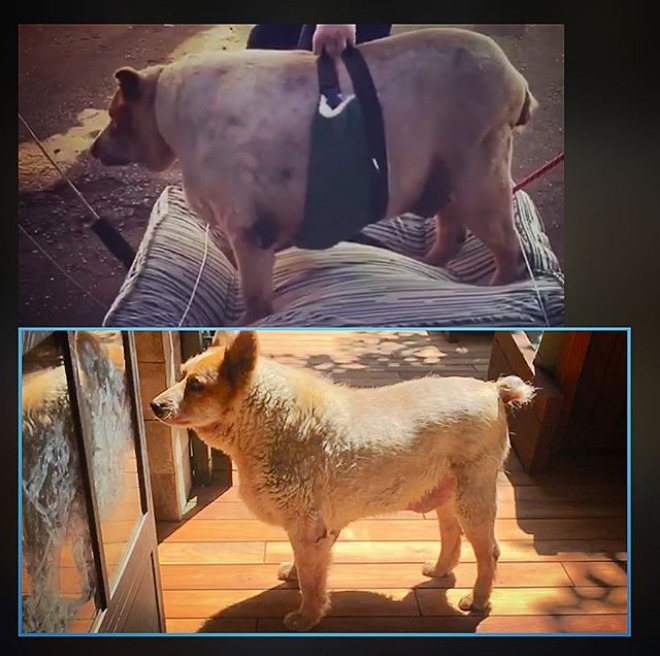 Jennifer recounts that he lived in complete isolation, perhaps they kept him locked up because his instinct upon arriving at his new home was to be in small rooms , approximately half a square meter, when he could have lived on a farm.
But regardless of his past or the physical conditions in which the puppy was found, his owners were more than determined to adopt him. For a long time, the two have imposed the project of helping animals in need, because they have an incredible passion for animals.
The poor man had a hard time adjusting to his new home the first few days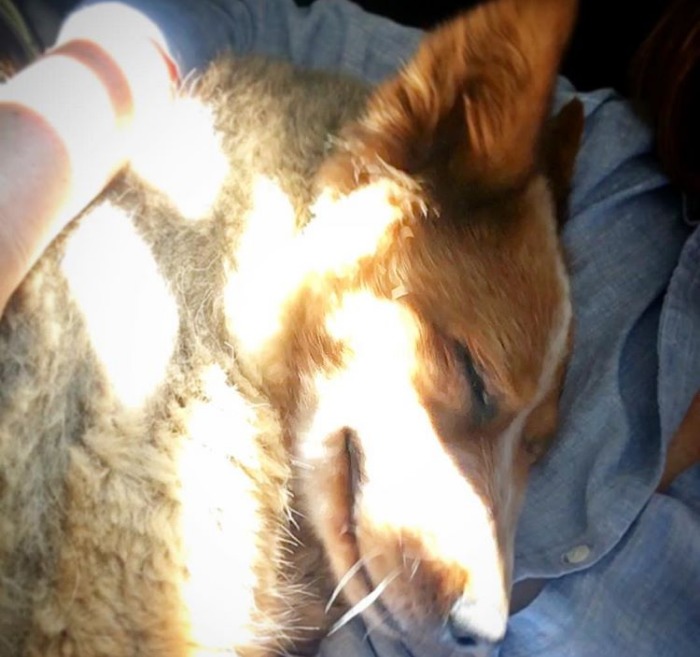 Of course, Arburckle was a great project to work on, and while they knew they would end up loving the newest member of the house, they never would have imagined how noble and unconditionally loving he would be.
They say that at the beginning it was painful to watch him do anything, since his joints had to support an incredible weight when he tried to move , even if it was only a short distance. It was as if he thought before moving: "Is it worth getting up?"
He didn't feel part of the family, he was always left out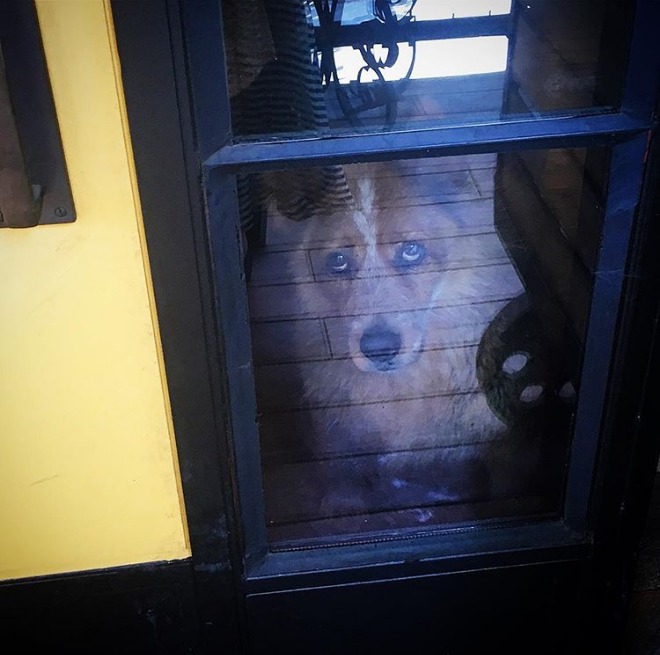 Another thing that was very difficult was seeing him unable to fit in with his other fellow puppies, because they ran from one place to another while he stayed outside the house , it was as if he didn't feel included in his new home.
But everything changed once he began to lose weight, little by little he was leaving his comfort zone . Out of nowhere she started chasing the other dogs around the house, she joined the group and began to show the love she felt for her two moms.
When her diet began to take effect and walking stopped being torture, her life began to change.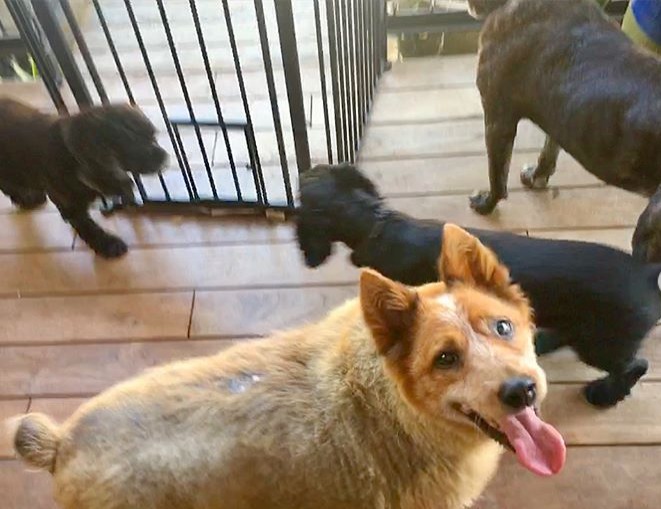 The best thing about the whole experience was watching him discover things for the first time in his life, Jennifer says.
The whole process was almost magical, seeing how he was happier every day , feeling the wind through the car windows or seeing nature, it even seems that he smiled as if to say thank you, says Jane.
Jane and Jennifer think that he smiles at them
//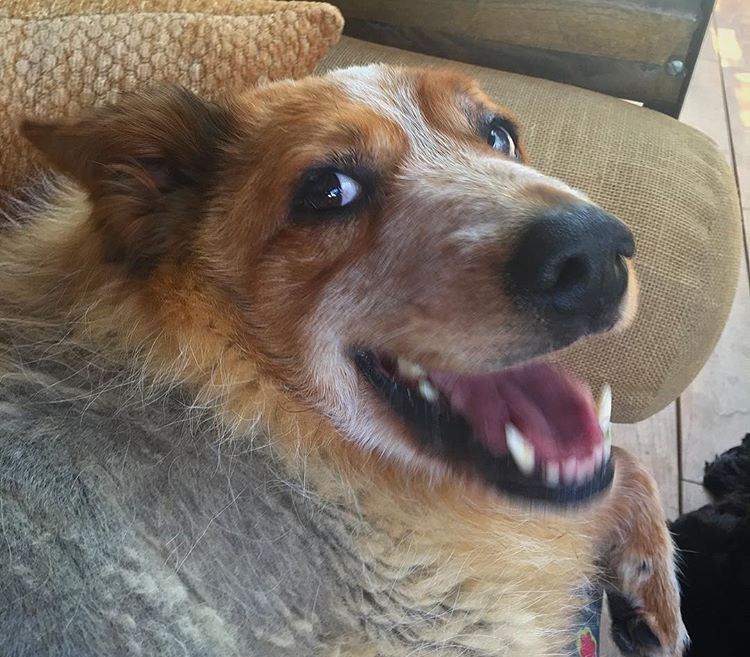 Currently he weighs 42kg and it has been a great improvement from the 52kg he weighed when he was adopted. He no longer looks like a strange creature and that is the most exciting thing, all this weight was like his prison and now he has been released from it, says Jennifer.
Now they all play together all over the house
It's beautiful to see him discover that he is able to do certain things that he couldn't before, like run and climb the stairs, now he can finally follow his instincts, says Jane.
He still has a long way to go, the most important goal has been achieved to make Arbuckle happy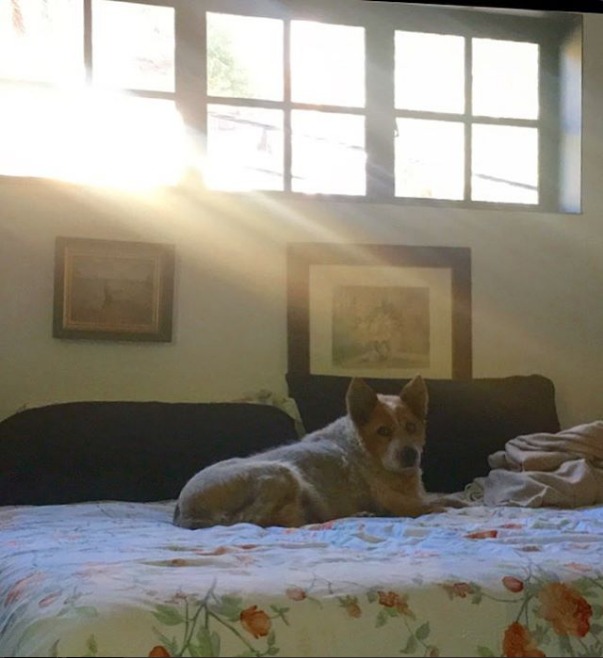 Thanks to his mother's efforts, every day Arbuckle gets a little better and although there is still a long way to go to recover for him, the progress is undeniable and the most important thing is that in the end he He got the life he always deserved.
We invite you to share this story with others to inspire them about the incredible kindness of these two women, and to be like them, we offer to contribute our help to these two women. Animals need it most!